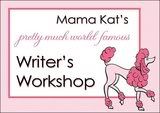 The WW poompt:
Things you oddly obseesed about as a child?
I believed that ALL inanimate objects had personalities and feelings.
Ok, I will pause so you can pick yourself up off the floor from sheer laughter.
I played mostly with my barbies and stuffed animals and if I thought one was upset or feeling sad, or sick, I would talk to them and they would talk to me. I also believed that crayons had personalities too. I was always wondering what color to choose because I didn't want to hurt any of their feelings. So I would purposely give each crayon a chance to color. I know! it sounds so hilarious as I write this and it is pretty funny. I was obsessed with the idea that everything I owned was life like. Ok, I spilled my guts to you, so now you can laugh and make fun of me....I can take it!